New Montage takes even the broadest concepts and works closely with you
to create superbly stylized videos for any business or personal need.



Transport Futures

Our commissioned video captured the approachable, engaging, and always educational personality of Noël Perry, renowned economist with Transport Futures.

NATCO Transport

A commissioned a video series for the client's new YouTube channel. This campaign introduced new videos on various topics to help triangulate its social media campaign.

Read With Max

We created a playful, tenderly worded montage for a Chicago author's promotion of his children's book. Winner of the 2011 People's Choice Telly Award.

Vera Networks

New Montage created this video for a telecom diagnostics service. We developed and integrated the narration, graphics, titles, and video from our library.

IceHook—Slinger™

A commissioned promotional video to highlight the client's call detail record management system. That's our original music in the background. Oh, and that's J.K. Rowling's cousin narrating.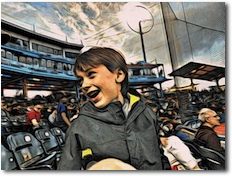 "If you talk to a man in a language he understands, that goes to his head. If you talk to him in his language, that goes to his heart."
— Nelson Mandela